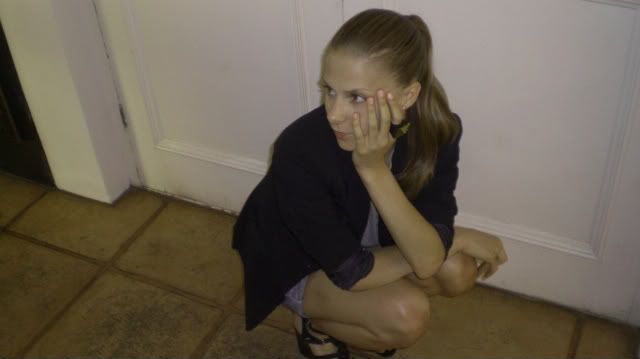 blazer.vintage nyc. shorts. vintage Levis. shirt. gap. shoes. nine west. ring. aldo.
3 things. I swear these 3 items: blazer. jean shorts. and gladiator wedges are something I can wear every.single. day.
The blazer in all its glory can, and is worn with anything and everything. It gives any outfit that dose of sophistication, but can be compared to the comfort of my BF's hoodie.
I think everyone agrees on the versatility and comfort of jean cut-offs. They can be rocked in any and every way. Enough said.
Finally these infamous wedges which have been seen all over the world...from Africa to Sweden to Australia. Everyone should own a pair. They not only mold to your foot, but feel like a worn in tennis shoe after the first couple of wears. I promise. Therefore I will wear them until they can't be worn anymore. In or out of style.
I love this ring. Great find at a Aldo sale, in Cape Town. I only stick to the accessories there because Aldo just opened last year (!!!) and since everything is imported, they can charge preposterous prices, and do.
It was a lovely winter day in the Cape. I filled the day with school work, grocery shopping, picking out a (free) insanely bold lipstick (thanks MAC recycle program), walking the dog and making pizza. All done in my 3 loves, that never seem to disappoint.

* sorry for the insanely large photos. I am very new to all of this and photobucket was being silly.